Galvanize BCAA 8:1:1 70 Servings 420g
ProteinLab sport supplement supplier / wholesaler Malaysia presents!
Galvanize BCAA 8:1:1 70 Servings 420g!
Be safe and rest assure you are getting 100% authentic products at the lowest price when you purchase from ProteinLab Malaysia.
You can also like our facebook for more promotion news at :
Or you can also follow instagram for more nutrition tip :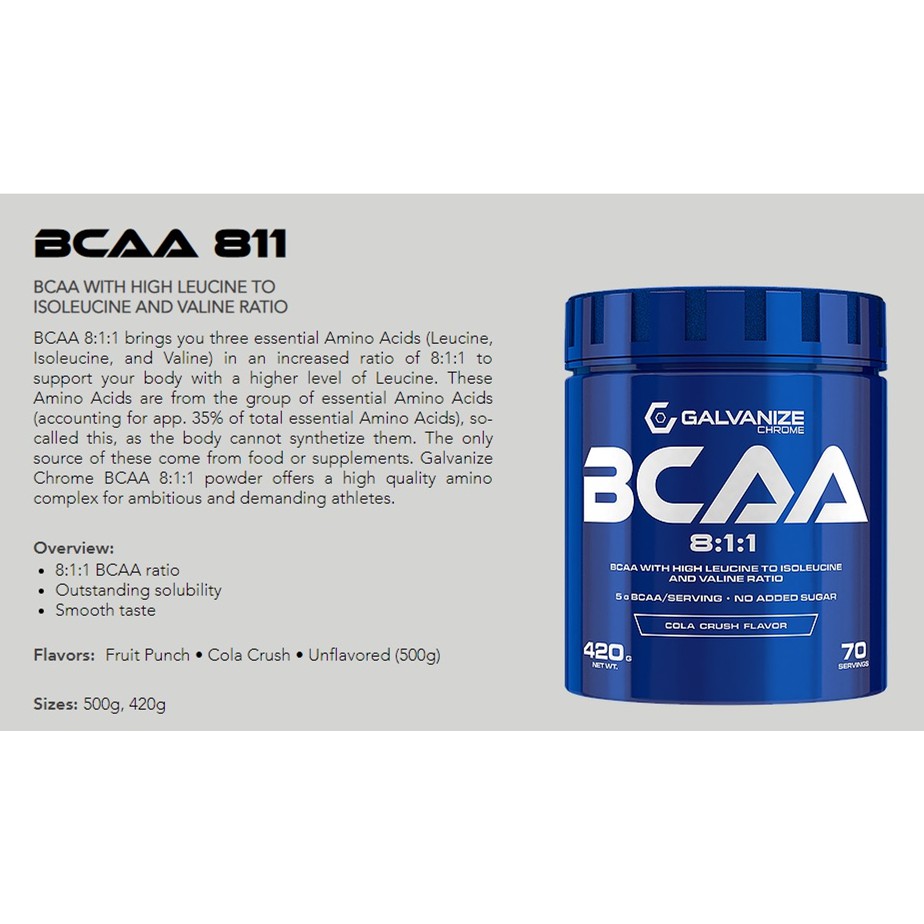 BCAA WITH HIGH LEUCINE TO ISOLEUCINE AND VALINE RATIO
BCAA 8:1:1 brings you three essential Amino Acids (Leucine, Isoleucine, and Valine) in an increased ratio of 8:1:1 to support your body with a higher level of Leucine. These Amino Acids are from the group of essential Amino Acids (accounting for app. 35% of total essential Amino Acids), so-called this, as the body cannot synthetize them. The only source of these come from food or supplements. Galvanize Chrome BCAA 8:1:1 powder offers a high quality amino complex for ambitious and demanding athletes.
Overview:
8:1:1 BCAA ratio

Outstanding solubility

Smooth taste
Flavors:
Fruit Punch • Cola Crush • Mango Magic
Sizes:
420g
Consumption:
Take one serving (5 g – scoop filled up to the 8.5 ml scale line) and mix with 350 ml water. Use this product 30–40 minutes before training and shortly after training, or before going to bed. On your rest days you can consume this product between meals. Take one or two servings per day.
---