KEVIN LEVRONE SIGNATURE SERIES LEVRO SHIELD 300 GM
ProteinLab sport supplement supplier / wholesaler malaysia presents!
KEVINLEVRONE SIGNATURE SERIES LEVRO SHIELD 300 GM!
Be safe and rest assure you are getting 100% authentic products at the lowest price when you purchase from ProteinLab Malaysia.
You can also like our facebook for more promotion news at :
Or you can also follow instagram for more nutrition tip :
LevroShield is designed for the hardest-training athletes. In its composition, LevroShield contains a high dose of L-Glutamine and beta-glucan. One portion of LevroShield supplies the body with 4.5 g of L-glutamine complemented by beta-glucan. Studies conducted by the chair of biochemistry at Oxford University show that L-glutamine significantly supported the body's immune system, minimising the number of infections in the athletes studied[1]. In addition, glutamine is credited with a significant role in the synthesis of muscle protein[2], which can have a direct impact on sports performance. With the components contained in LevroShield, you can protect your muscles and minimise the feeling of overtraining – the maximum protective effect of LevroShield is thanks to the beta-glucan.
The product is recommended for the hard-working athletes in the period of recovery and lowered immunity. LevroShield is the best support for hard-training athletes. Protect your body, protect your muscles and protect yourself from colds and injuries! Get LevroShield today!
LevroShield is recommended to be combined with the following products:

LevroShield + LevroArmour + LevroIsoWhey + LevroPump + LevroRecovery

Combining all these products provides a complex solution for muscular strength and muscle building for any athletes, especially for strength and endurance sports disciplines.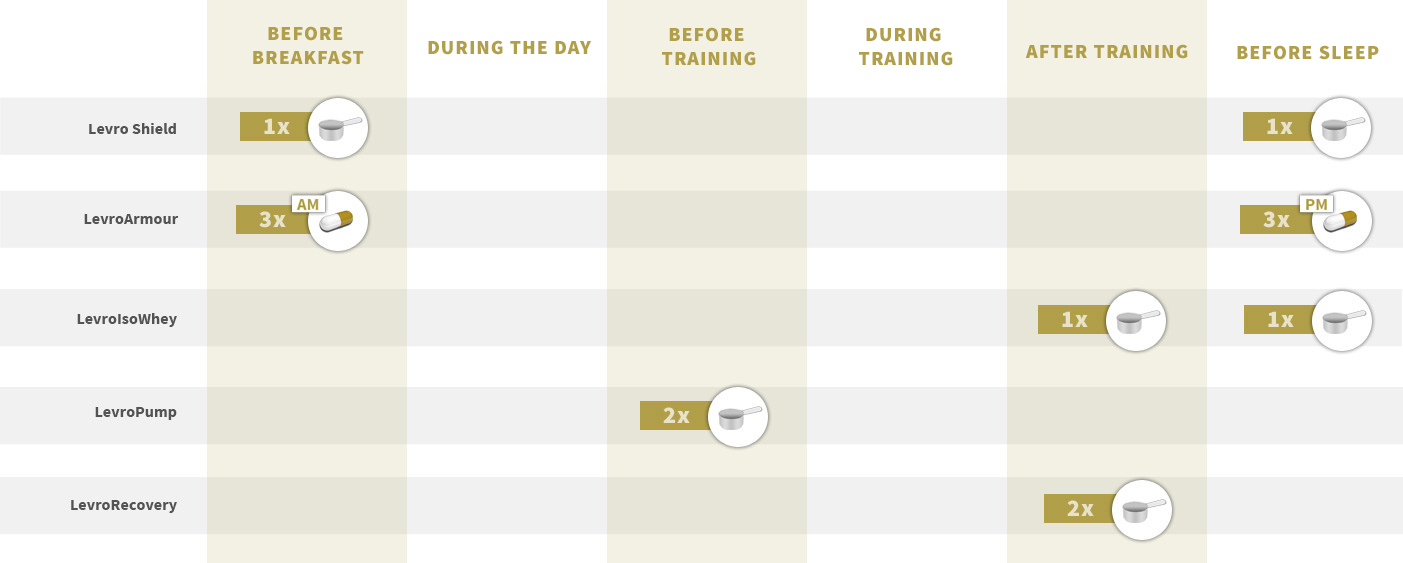 Nutrition facts
Direction use: Mix 1 scoop of powder (~4,5 g) with 250 ml of water. Drink 1 portion immediately after workout.

Warnings: Do not use if you are allergic to any of the product compounds. Do not exceed the recommended daily dose. Food supplements should not be used as a substitute for a varied diet. A varied and balanced diet and a healthy lifestyle are recommended. Do not use if pregnant or nursing. Keep out of reach of young children. Store in dry and cool place. Protect from direct sunlight.

---