MuscleTech Nitro Tech, Milk Chocolate, 10lbs
ProteinLab sport supplement supplier / wholesaler Malaysia presents!
MuscleTech Nitro Tech, Milk Chocolate, 10lbs
Be safe and rest assure you are getting 100% authentic products at the lowest price when you purchase
from ProteinLab Malaysia.
You can also like our facebook for more promotion news at :
Or you can also followinstagram for more nutrition tip :
Whey Isolate+ Lean Muscle Builder
10 Lbs Bonus Size
25% More - 8 Lbs + 2 Lbs Free
70% Better Than Regular Whey
Based on Research from St. Francis Xavier University
Whey Isolate + Lean Musclebuilder
Whey Isolate & Peptides Primary Source
Builds 70% More Lean Muscle than Regular Whey ¹
Amplifies Recovery, Performance & Strength
30g Protein
1g Sugar
3g Creatine
6.9g BCAAs
5.3g Glutamine & Precursor
3.2g Leucine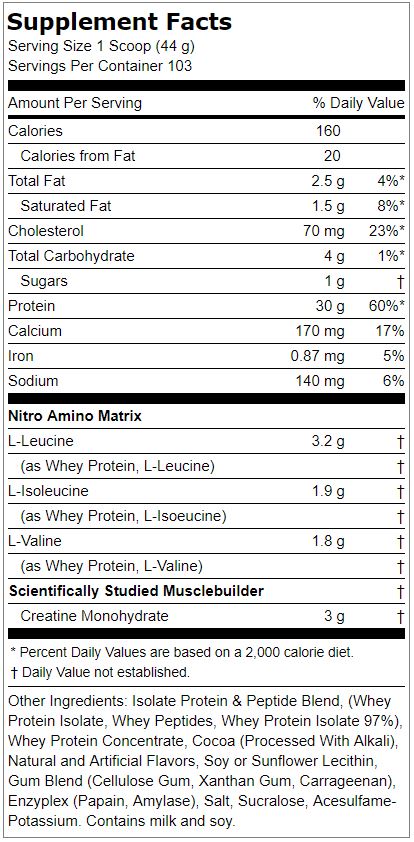 The Most Powerful Protein Formula Ever Developed
Nitro-Tech® is a scientifically engineered whey isolate + lean musclebuilder formula designed for all athletes who are looking for more muscle, more strength and better performance. Nitro-Tech® contains protein sourced primarily from whey protein isolate and whey peptides - two of the cleanest and purest protein sources available to athletes. Other whey protein supplements might have only a few grams of these highly bioavailable and easily digested proteins. Nitro-Tech® is also enhanced with the most studied form of creatine for even better gains in muscle and strength.
*70% Better Than Regular Whey Protein for Gains in Lean Muscle
In a six-week, double-blind study involving 36 test subjects with at least three years of weight-training experience divided into three groups, subjects combining the core ingredients in NITRO-TECH® with a weight-training program gained 70% more lean muscle than subjects using regular whey protein (8.8 vs. 5.1 lbs.) and increased their bench press more than subjects using regular whey protein (34 vs. 14 lbs.). These same subjects even gained 4 times the lean muscle as subjects using a placebo (8.8 vs. 2.0 lbs.)*. This formula provides 30g of protein from ultra-pure protein. Plus, it delivers a clinically proven dose of creatine.
Build More Strength Than Regular Whey Protein
Each scoop of NITRO-TECH® contains a research-proven dose (3 grams) of creatine monohydrate. Combined in NITRO-TECH®, whey protein and creatine build more strength than regular whey protein. In one study, subjects using the whey/creatine combination in NITRO-TECH® increased their one-rep max bench press by 34 pounds, compared to only 14 pounds for subjects using regular whey protein.*
Ultra-Clean Protein Formula
A single scoop of NITRO-TECH® contains 30 grams of protein, primarily from whey protein isolate, ultra-filtered whey protein concentrate and hydrolyzed whey protein isolate, with no more than 4 gram of carbs and 2.5 grams of fat! Most protein powders deliver significantly less protein per scoop, while some protein formulas are loaded with fat and carbs. The whey protein in NITRO-TECH® has been filtered using Multi-Phase Filtration Technology for less fat, lactose and impurities than cheaper protein sources.
Get More for Your Money
Unlike the competition, Performance Series products contain superior key ingredients in clinically dosed amounts that are fully disclosed so you know exactly what you are paying for.
Best-In-Class Taste
Every flavor of NITRO-TECH® won in head-to-head third-party taste tests against leading competitors.
Directions:
For Use :Mix 1 serving (1 scoop) in 6 oz. or 2 servings (2 scoops) in 12 oz. of cold water or skim milk in a glass or shaker cup. Use between major meals and after exercise. Drink 8 to 10 glasses of water daily. For maximum results, consume 4 scoops of NITRO-TECH daily for a minimum of six weeks.
Shake container before use.
Miscellaneous:

This product contains 3g of creatine per serving which is in addition to the 30g of protein per serving shown in the Supplement Facts. Creatine, in combination with whey protein, has been clinically shown in a published study in the International Journal of Sport Nutrition and Exercise Metabolism to be more effective for building muscle than just whey protein alone. There are no added amino acids contained within this formula that are counted towards the total amount of protein listed on the label.
Protected by U.S. Patent #6,326,513. Distributed by Iovate Health Sciences.Make in the USA from domestic and international ingredients.
082917
Storage:

To maintain product freshness, store in a cool, dry place (60F to 80F).
Warnings:

Keep out of reach of children.

Pregnant or lactating women should consult their physician prior to taking this product.

Do not use if pregnant or nursing. Consult a medical doctor before starting any diet or exercise program. Use this product as a food supplement only. Do not use for weight reduction. Discontinue use and consult a medical doctor if you experience unusual symptons.
Contains milk and soy ingredients. Processed in a facility that processes wheat, egg, tree nut, peanut, fish and shellfish ingredients.
---