Never Give Up Weightlifting Leather Belt
ProteinLab sport supplement supplier / retailers in Malaysia presents:
Never Give Up Weightlifting Leather Belt
Be safe and rest assure you are getting 100% authentic products at the lowest price when you purchase from ProteinLab Malaysia.
You can also like our facebook for more promotion news at :
Or you can also follow instagram for more nutrition tip :
Never Give Up Weightlifting Leather Belt, Black Color, spec:
S: Waist (29 inches - 36 inches), Total Belt Length = 106cm
Benefits of a Weight Belt
A weightlifting belt has two main purposes. It reduces stress on the lower back while the person is lifting in an upright position, and it prevents back hyperextension during overhead lifts. A belt reduces low back stress by compressing the contents of the abdominal cavity. This increases the intra-abdominal pressure (IAP), providing more support in front of the bones of the lower back. This allows the spinal erector muscles, which would normally provide this support of the lower back, to produce less force during the lift. Another benefit of increased IAP is a reduction in the amount of spinal shrinkage (lower back compression) a lifter may experience during circuit weight training.
QUICK SUMMARY
Belt Pros:
Helps prevent injury to the low back during heavy lifts.
Can increase performance.
Belt Cons:
Might inhibit motor learning in the abdominal muscles.
Lower Back might not get as strong.
How to Wear a Weight Belt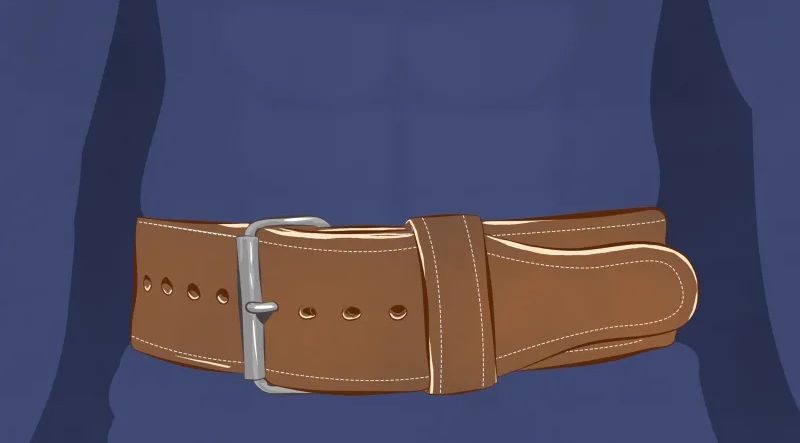 A belt must be worn tightly to maximize its usefulness. This is physically taxing and should not be done for long periods of time. Research has shown that weightlifting on its own may elevate high blood pressure, and wearing a tight belt during exercise may exacerbate it even more so. For this reason, belts should only be used on two primary occasions. The first is when performing maximal or submaximal lifts in exercises such as the squat or deadlift, in which the weight is supported by the lifter's back. The second is while performing exercises, such as the military press, which may cause the back to hyperextend. The belt should be loosened to allow blood pressure to return to normal levels in between sets.
So, what we advise
💪 LIFT MORE WEIGHT – Never Give up Weightlifting Leather Belt is made for heavy lifting – with rear padding and a comfortable strap you can tighten around your core to maximise your lift ensuring you lift more weight for more reps!
💪 COMFORT & QUALITY – Made of the highest quality Cow Hide Leather which is smooth, soft to touch and water proof while being long lasting. Double stitched seams prevent the belt from coming apart like other belts + Heavy duty double pronged buckle ensure the belt will not come loose or come off when lifting.
💪 PAIN RELIEF – Anyone that has ever suffered with lower back pain while training will benefit from the extra padding and natural fit of this belt. Extremely comfortably even when fully tightened avoiding any strain, pain or fatigue which allows you to wear the belt during any lift and pain free!
💪 SATISFACTION GARUANTEED – Our goal is to give you the best products & look good doing it! Competitive prices & Customer service is our highest priority so you will not be disappointed.
---